Caspian Sea Oil Expansion Yields Downwind Droughts
Afghanistan, Iran, Pakistan, & etcStan.
| | |
| --- | --- |
| Caspian Sea Oil Fields & Nations | Central Asian Nations (China low right, brown color) |
| | |
Since the 1930's US Dustbowl that was downwind from the worlds's first massive oil fields discovery/delveopment (Pithole being a mere pittance) each explosive exploration has caused downwind droughts with economic, social and political chaos. The latest and greatest is world terrorism. Central Asia is seasonally buffeted from oil-drought winds from two sources: China's Permian Basin and the Caspian Sea. (China's massive western oil fields occupy most of the brown area of the above right map.) The multi-national droughts in Central Asia have the harbingers of border strife over water rights: "Kazakstan accuses China of depriving it of vital water supplies" 010419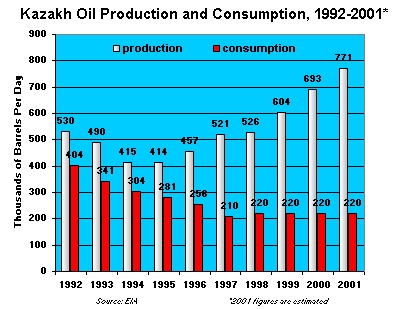 The Caspian Sea's development is summarized in the above graph and following articles which show a time correlation, like the other major oil fields and drought areas as well as the mode of the modern black plague: flaring natural gas.
The droughts in Central Asia are summarized in the following headlines and text.
Afghanistan

"Drought causes famine in Afghanistan" 0105
"In Asia, A Third Year Of Drought. Severe Food Shortages Caused By Lack Of Water.Afghanistan Among Countries Suffering Most." 010928AP
"We don't want to plant poppy, but we have no choice," said Mohammed, 60, munching a handful of tender, dandelion-like poppy shoots. "There is so little water that the wheat won't grow well, and cotton prices have fallen by half. But with poppy, we can get 50 times the money. Everyone is starting to grow it again." .... the deep wells dug by wealthier farmers last year have also run dry. 020121

Azerbaijan

Iran

Kazakhstan

"Kazakstan accuses China of depriving it of vital water supplies" 010419

Kyrgyzstan

Pakistan

"Pakistan warned of another drought" 010130

Tajikistan

Turkmenistan

Uzbekistan

"The federation has appealed for an additional $602,000 to help neighboring Uzbekistan, which is also hit by a drought and food crisis." WashPost 2001-08-21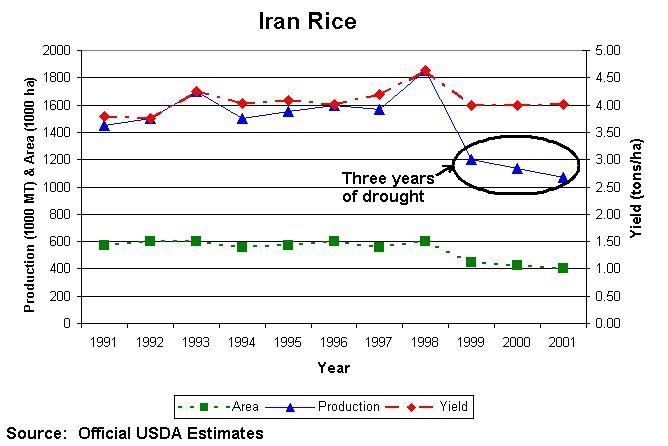 The Caspian sea is no exception to the rule.
The above analysis was completed before the World Trade Center Terrorism. Would it have happened without the modern black plague of oil? Oil provided the money for Osama Bin Laden to traipse from drought-stricken country to drought-stricken country recruiting victims of upwind oil fields: Yemen, Sudan, Kenya, Afghanistan, Pakistan, etc. Each act of terrorism funded by oil dollars and fueled by oil droughts increases the timistic losses of each barrel of oil.
---